THE JAWA DATABASE


Everything you've ever wanted to know about Star Wars' Jawas.
Actors, costumes, locations & props
The Jawa Database is an ever expanding collection of information, discovered over a number of years about one of smallest antiheroes in Star Wars..
If you have anything else to add or adjust,
please contact us with your data.
Let's start at the beginning... So what are they ?
Jawas are an alien species from the Star Wars universe. They are well known scavengers, droid traders and occupational chancers. Being characteristiclly skittish, Jawas reisde in packs and are more likley to run away from a fight than actually start one. As inhabitants of the desert world's such as Tatooine, they live onboard massive tank-like vehicles called Sandcrawlers, which protects them from sandstorms and dangers of other races like the Tusken Raiders.
Thought to be a species evolved from rodent like creatures, Jawas commonly measure somewhere between 1.0 to 1.4 meters in height. With large hoods hiding everything but the glow of their eyes, Jawas are commonly dressed in long brown robes, adorded with leather bandoliers and gun straps that criss cross over the shoulders. Brandishing rudimentary Ion weapons or other types of equipment for restraining droids.
Laying out the foundations (the original conception)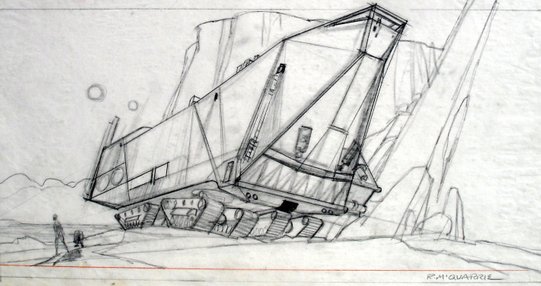 George Lucas had been wanting to produce new verson of the Flash Gordon serials seen in the 1930's. But unable to obtain the license of Flash Gordon, he embarked on his own sci-fi universe which became Star Wars. Durring the inital concept of Star Wars he employed the artist Ralph McQuarrie to design various concept scenes based on ideas from George's early scripts. Some of these included areas of an alien desert planet (Tatoonie) with alien nomadic-traders (Jawas) in places they inhabitated.


These concept images were shown to the production crew as the base for the real desgins to be seen on film .
left: Ralph McQuarrie's pencil draft of a Jawa Sandcrawler.
below: Finished painting of the Jawa's trading camp.


LOCATION SHOTS

Scenes shot: Star Wars: A New Hope - Exterior Sandcrawler scenes including load R2-D2 on board and the droid sale to Owen larrs.

Location: TUNISIA (Sidi Bouhlel Ravine.)

Actors in scene:
Chief Jawa - Jack Purvis
Jawa #2 - A French-Tunisian small person (name unknown)
Jawa #3 - Melissa Kurtz (daugther of Star Wars Producer: Gary Kurtz)
Jawa #3 - Tiffany Kurtz (daugther of Star Wars Producer: Gary Kurtz)
jawa #5 - the son of one English truck drivers who worked for one of the production companies,
jawa #6 - local child from Tunisia
jawa #7 - local child from Tunisia
jawa #8 - local child from Tunisia
jawa #9 - local child from Tunisia
jawa #10 - local child from Tunisia

Notes: Before Jack Purvis was hired for the job, he and R2-D2 actor Kenny Baker had just reached the final of the TV show Opportunity Knocks, as musical-comedy duo called the Mini-Tones.
Jack was also known as a pratical joker while on location in Tunisia and Mark Hamill and Alec Gunniess have remarked about Jack in stories.
It is unknown who the five Tunisian children were but they may of been children of the local crew for the film?
We are unsure if the French-Tunisian small person was a known actor or just someone known in the area?
The son of one of the production company's English truck drivers.
Gary Kurtz had taken his wife and two daughters (Melissa and Tiffany) to Tunisia.


Scenes shot: Star Wars: interor sceen on the Sandcrawler

Filming Location: UK - Elstree or possibly Sheperton Studios

Actors in Scene:
Chef Jawa - Rusty Goffe
Taller Jawa - Warwick Diamond

Shorter Jawa - Fraser Diamond
Gonk Droid - Jack Purvis

Notes: Warwick and Fraser where the children of Peter Diamond (main stunt cordinator). Although this is the only sceene they both apeared in Peter's family were on also set for some parts of Empire Strikes Back and Return of the Jedi



Scenes shot: Pick up shots of Jawas carrying R2-D2, Tusken Radiers with the Bantha and some C-3PO shots


Filming Location: USA Death Valley

Actors in Scene:
(All Jawas actors were children from local Death Vally elementary school)
Jawa - Tim Donaldson (age 5)
Jawa - Andrea Wickman Miller (2nd Grade)
Jawa - Joe Weber (1st grade)
Jawa - Johnny Bushell, (2nd Grade)
Jawa - Lisa Curtis, (2nd Grade)
Clare Boland, (2nd Grade)
Jenny Payne, (2nd Grade)
Kelly Cohan (2nd Grade)

Notes: Tim Donldson's mother and father were employed by the National Park Service in Death Valley National Monument as a Park Rangers.
Andrea Wickman Miller's father was an artist and their family lived in Death Valley Junction.



Micki Herman

(George Lucas' assistant filled in for Anthony Daniels) - C-3PO

At the movies... where did we see them ?
Star Wars: Episode IV - A New Hope (released in 1977)
The very first appearance of the Jawas was in Star Wars IV 'A New Hope'. In their first scene, two Jawas encounter R2D2 in a rocky area of the Tatooine desert and caputre him using a ion gun, a few seconds later a larger group appear and carry R2 away. After fitting R2 with a restrinaing bolt he's taken on board their vehicle, where he meets back up with C-3PO. Subsequently they're taken to Luke Skywalker's Uncle Owen, as part of a droid sale.
Later on, the same group of Jawas are found murdered in the desert by Stormtroopers who were also looking for the 2 droids.
Some other Jawas are also seen outside the Mos Eisley Cantina and one is told by Luke to take his hands off his Landspeeder.
Star Wars: Episode VI - Return of the Jedi (released in 1983)
Another noteable appearance is in 'Return of the Jedi' where a Jawa in found as a slave in Jabba's the Paliace using a long fan to keep Jabba cool.
'The same Jawa i also seen later on Jabba's bardge
Star Wars: Episode I - The Phantom Menace (released in 1999)
There is a short scene where two Jawas are seen watching the Pod Racers go past them at high speed during the race.